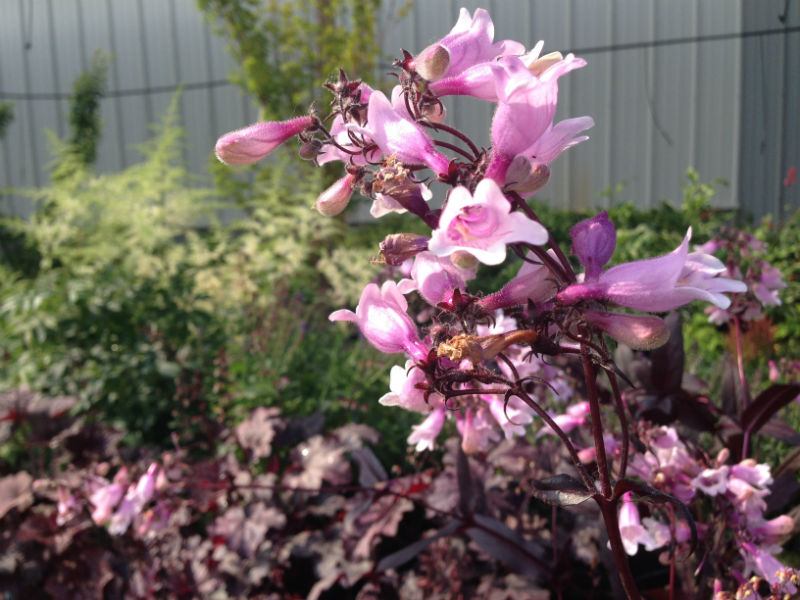 Penstemon is a western United States native that has colorful tubular flowers on tall spikes. This prairie plant thrives in hot, sunny conditions and is a stunning addition to wildflower plantings. Another common name is Beardtongue.
The beauty and regal presence of Penstemon in bloom is unmatched by few other perennials. Growing Penstemon is straightforward, as they are extremely resilient and are excellent naturalizing plants when encouraged to re-seed themselves. Best of all, Penstemon's nectar-rich flowers are indispensable to pollinators like bumblebees and hummingbirds.
About penstemon
Penstemon forms dense spikes of tubular flowers in early to mid summer. Flower colors include pink, blue, red, purple, and white. The plants grow 1′ to 3′ tall, depending on the variety, and look best planted in groups. Smaller varieties are good for rock gardens and the front of the border, while taller types are best in the wildflower plantings or in the back of the border.
Special features of penstemon
Easy care/Low maintenance

Good for cut flowers

Attracts hummingbirds and other pollinators

Tolerates dry soil
Choosing a site to grow penstemon
Select a site with full sun and well-drained soil. Choose a site where the plants will have plenty of room; penstemons don't like to be crowded.
Planting Instructions
Plant in spring, spacing plants 1 to 3 feet apart, depending on the variety. Don't crowd plants. Prepare the garden bed by using a garden fork or tiller to loosen the soil to a depth of 12 to 15 inches, then mix in a 2- to 4-inch layer of compost. Dig a hole twice the diameter of the pot the plant is in. Carefully remove the plant from its container and place it in the hole so the top of the root ball is level with the soil surface. Carefully fill in around the root ball and firm the soil gently. Water thoroughly.
Ongoing Care
Apply a thin layer of compost each spring, followed by a 2-inch layer of mulch to retain moisture and control weeds. Water plants during the summer if rainfall is less than 1 inch per week. After the first killing frost, cut stems back to an inch or two above soil line.
(2018) Three Varieties currently available in store:
HUSKER RED BEARDTONGUE – Penstemon digitalis 'Husker Red'
DARK TOWERS BEARDTONGUE – Penstemon digitalis 'Dark Towers'
POCAHONTAS BEARDTONGUE – Penstemon digitalis 'Pocahantas'