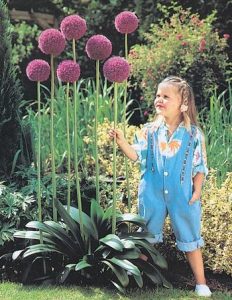 Allium is an easy to grow, absolutely amazing plant.  It's best when you plant it from a bulb in the fall and then it blooms well into spring. 
Allium Globemaster is the variety that we planted in the flowerbeds in front of the store, along Sprinkle Road.  I also planted this in my yard.  When spring came, it developed into one of the most amazing and beautiful plants that I have ever seen.  This had to have been the most asked for plant in the spring.  Unfortunately, spring is a little late because it's best when planted from bulbs in the fall so be sure to plant yours NOW!
Allium Globemaster is a tall variety with 8-10″, round flowerheads.  Other allium varieties are also available and are beautiful too – we stock both Purple Sensation and Giganteum.  The price per bulb is higher than tulips or daffodils but the beauty is worth it.  You only need a few to have a dramatic impact.  Easy to grow Allium attract butterflies, are deer resistant and are sure to turn heads in your garden.
Planting bulbs is really pretty easy to do and they add so much beauty when the long-awaited spring finally arrives.  We have a good assortment of many types of bulbs available now.  Bulbs can be planted until the ground freezes too hard to dig anymore.