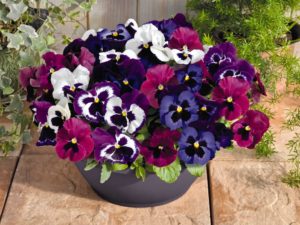 Want beautiful color that will survive the cool temperatures of late-fall and early-spring?
Look no further than the tough, cold-tolerant, and colorful pansy. Available in many beautiful shades of white, blue, yellow, purple, red-solid blooms and blooms with "blotches" of contrasting color in the center, pansies and violas will brighten any fall through spring landscape. Our pansies are all fresh and especially healthy as they are grown locally at our own growing division right here in Kalamazoo, MI.
Pansies are very easy to grow, both in the ground and in containers. They can be planted by themselves but also look great when combined with other cool-season annuals or spring bulbs. Pansies bloom best in sun to partial shade. Ideally, 4 hours of sunlight is best. They also prefer cool growing temperatures 40-65 degrees F. Morning sun with some afternoon shade is an excellent growing site. Pansies don't do well in heat and humidity, however they can tolerate slightly warmer exposures and will bloom longer if planted in evenly moist, well-drained, nutrient rich soil. They make excellent container garden or bedding plants, and attract butterflies with their light fragrance.