If you've ever seen a clematis in full bloom, you know this perennial can be a real showstopper!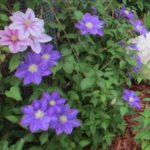 Clematis are sturdy flowering vines that produce gorgeous star-shaped flowers in a variety of colors with various size flowers. Many gardeners like to plant them around the mailbox or on an arbor or trellis. I have even seen them used as a ground cover. However you choose to use yours, clematis is one plant that every gardener should make room to grow.
It is important to read the tag of the clematis to be sure it meets your requirements. Beginner gardeners are often not aware that each variety can have a different bloom time. Some clematis bloom in early spring, some mid-summer, some in the fall and some will repeat bloom throughout the summer. Try planting varieties with different bloom times and complimentary colors which will allow you to have masses of blooms from early spring to late fall.
Clematis blooms can vary. Some clematis have large sized blooms while others have small dainty bell shaped flowers. Blooms can be single or double flower varieties. A few clematis even have sweetly scented blooms. Some varieties grow very compact while others grow profusely. Once again, it is very important to read the tag to decide which variety is best for you.
Be sure to choose your planting location carefully since clematis dislike transplanting. Clematis are happiest with 6+ hours of direct sun per day although some dappled shade during the heat of the day can be beneficial. The best advice I can give about growing clematis is to "have their feet in the shade and their heads in the sun." Since the root of the clematis grows close the soil surface, it is best to plant a perennial such as daylilies or heuchera in front of the vine to shade the roots. Deep mulch can also help shade the roots as well and be sure to plant in well-drained soil.
Clematis are heavy feeders and need regular watering. In spring, start feeding plants that have been in the ground all winter with a balanced granulated fertilizer like Espoma RoseTone. Continue to feed a few more times through August. Be sure to water thoroughly and deeply during the hot summer months.
Clematis may be a little slow to establish growth in a new location and blooms may be sparse for the first couple of season. By the third season, blooms should be plentiful and the plant should have increased in size each season. Believe me, it is worth the wait! Remember the old adage: First year they sleep, second year they creep and third year they leap!
Last but not least, keep the tag that comes with your clematis. It contains lots of helpful information that you will need to refer to in the future! Clematis really vary in their need for pruning and doing it properly is extremely important. Click here to read more about clematis care and pruning.
We've got two new varieties this year (2018):
Bees Jubilee – Loads of 6–8″ mauve-pink flowers with deep pink bars put on a powerful display in early summer, with repeat bloom later in the season. A compact grower and very showy. Best in partial shade. Grows to 14′. Color does not fade in the sun. Blooms May, June and September  Pruning group 2
Sunset – a real eye catcher! Loads of dark velvety red 5-7″ flowers with a velvety texture and darker magenta bar down the center of the sepals. Nicely contrasting yellow anthers, too. Vigorous grower. Blooms continuously May – September. Pruning Group 2.