When:
May 9, 2019 @ 2:00 pm – 3:00 pm
America/Detroit Timezone
2019-05-09T14:00:00-04:00
2019-05-09T15:00:00-04:00
Where:
Wenke Greenhouse Retail Store
5071 Market Street
Kalamazoo, MI 49048, Kalamazoo
MI 49048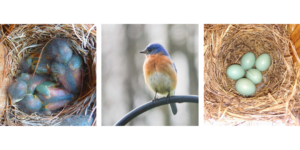 Join us at Wenke Greenhouses on Thursday, May 9th at 6pm as we welcome Jonathan Morgan, the Kalamazoo & Barry County Coordinator for the Michigan Bluebird Society. Jonathan joins us to talk about Eastern Bluebirds, one of everyone's favorite backyard birds.
The Eastern Bluebird has suffered due to competition with non-native species, such as the house sparrow, but it is making a comeback with the help of enthusiasts and people seeking to help control insect pests naturally. Bluebirds eat many of the insects that are common pests for gardeners and farmers. Their appetite for insects makes them an important part of an integrated pest management strategy.
In addition to learning more about Bluebirds, Jonathan will also discuss how to successfully attract Bluebirds to a nesting box, helping contribute to the healthy improvement of the Bluebird population over the last 15 years in many areas of North America.

This class is one of the many FREE classes we offer at Wenke Greenhouses. Check our classes and events schedule on our website at https://wenkegardencenter.com  to see what other FREE classes are offered this season!